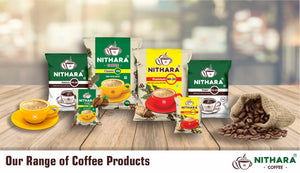 " Experience the Best & Flavourful Coffee "
Warm welcome to Nithara Coffee. We are a family of coffee growers with a long history in coffee cultivation and sale of coffee. Nithara meaning ''Deep Rooted'' represents our fundamental ideals being Quality, Consistency and Service. Our coffee products are manufactured just in time to ensure that the coffee has the highest degree of freshness. We do not overstock on finished goods. We have implemented novel practices unique to us which include rigorous quality control measures to ensure that the customers experience while drinking coffee is at its best.
Having said that, we invite you to try our Coffee Products to experience Coffee, at its Best.
Nithara Coffee Promo Video
---
Nithara Filter Coffee Products
---
Experience The 'Perfect Cup'
Experience the perfect balance of Aroma, Flavour and Mouthfeel in your cup of Coffee. We are sure that it will make your day !.